Twelve Sweet and Inspirational Novellas in One – ONLY $.99!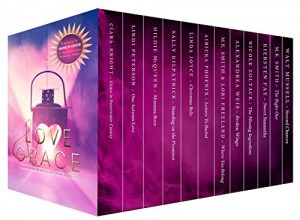 Romance for the soul, a gift from the heart. Twelve Sweet and inspirational novellas for everyone. Read Love & Grace Boxed Set by several incredible authors. ONLY $.99!
100% of proceeds will go to GRACEPOINT – A School for the Dyslexic Learner. Can a town save a marriage? Will a high school reunion offer a second chance at love? Can a man with a secret and a woman afraid of being hurt learn to trust? Can a girl running from her past escape her heart? Will a woman trapped in the past discover the true importance of family? Can unexpected love become the best present ever?
5 STARS "Grace in Sweetwater County is emotional, heartwarming, and inspiring!" -Ashley Cestra
5 STARS  "Want to remember what it was like to fall in love for the very 1st time ? Read the stories by these amazing authors and you'll have no trouble remembering it at all." ~ Crazy Chix Book Reviews
5 STARS   "Reading and helping a cause that is a win-win. My heart melted reading Sweet Samantha by Kiersten Fay. The types of stories to make your heart flutter and body melt." ~ Kat H.