Erotic Romance Murder Mystery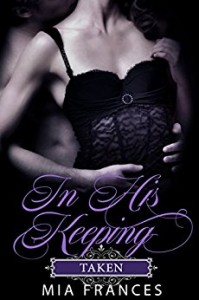 Today's HOT NEW Release is the erotic romance murder mystery, In His Keeping by Mia Frances.

Out of work and on the verge of being homeless, Sylvie Jenkins is desperate. Her desperation leads her to take a job with a reclusive writer living in the Adirondack Mountains of upstate New York. She's never heard of Connor Hudson, but the man is offering her room, board, and an extremely generous salary. How bad could he be? Sylvie is shocked to learn that she might not know who Connor Hudson is, but millions of readers do, scarfing up the books he writes under various pseudonyms. And Connor's not just a bestselling author. He's a billionaire entrepreneur whose publishing and media empires span the globe. Her new employer is a drop-dead gorgeous hunk, but he's also surly, dominating, and demanding.
"Mia Frances delivers a great story and this skeptic is now hooked! I am looking forward to seeing the rest of Sylvie's journey and where this "erotic romance murder mystery thriller" might lead!" –READER
"Can't wait to read book 2!!!! Haven't been able to put this down. Love the twist that came in about three quarters into the book." –Amazon READER