Charming Christmas Romance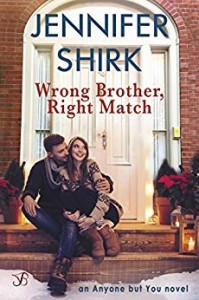 Pick up your copy of today's charming Christmas Romance, Wrong Brother, Right Match by Jennifer Shirk.

When matchmaker Kennedy Pepperdine gets trapped in an elevator with a handsome stranger, she confesses that her current boyfriend might not be as perfectly matched to her as she thought. Imagine her surprise, when that same handsome stranger turns out to be her current boyfriend's older brother and she's stuck visiting his family for Christmas. The more time they spend together, the more they each start to wonder if her supposed right match just might be the wrong brother.
"This story was gripping, fun, tense, and romantic at the same time. Interspersed with light humor and feel good characters and situations, you won't be able to put it down!" –Reviewer
"…a sweet, delightful, heartwarming romance. It was a cute read perfect for those who want to enjoy a Christmas romance." – Urvashi H., Reviewer