An Epic Vampire Romance Series
Paranormal romance fans, sink your teeth into today's feature book – Vampire Elite by Irina Argo, Volume One of the Vampire Elite Series. It currently has an outstanding 4.8 star rating with 122 reviews. "…a spellbinding novel of action, suspense, romance, and conscience … the type of book that will make you read all day until you get to the end! It is deliciously addictive!"–Christine Nguyen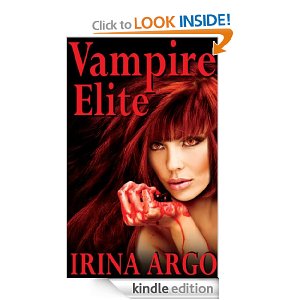 A Brief Summary of Vampire Elite:
Vampire Elite is a new vampire series. The first two parts are released in one volume. Based on an ancient Egyptian legend, packed with action and intrigue, Vampire Elite is an epic story of a bitter conflict between two immortal races and the effect of that conflict on everyone living in its grip. The new Queen is the last hope to save her people, the immortals enslaved by the vampires. But the King of the vampires has other plans. What neither expects is the passion that erupts between them.
What Readers Are Saying About Vampire Elite:
"You've managed to restore my hope in the future of vampire books." — Kim Anisi
"…… The characters are strong, complex and believable. This was a fascinating read and definitely a book for anyone who loves fantasy, romance and of course vampires." — Lit Amri
If you haven't snatched your copy of Vampire Elite, grab it today.