A Smart & Clever Romantic Mis-Adventure
Romance fans, if you're looking for an entertaining romp take a look at this wild, romantic mis-adventure, and today's feature Romance  – Artful Dodger (Maggie Kean Mis-Adventures) by Nageeba Davis. It currently has an impressive 4.8 star rating with 14 reviews. "If you like Janet Evanovich's Stephanie Plum series, you'll love this book. The plot contained just the right mix of mystery, humor and romance and was a fun, quick read. I can't wait to read the next two books in the series!" –Brittany W.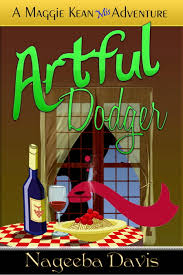 A Little About Artful Dodger:
Art teacher and sculptor Maggie Kean was having a rotten day, burning her toast, and stubbing her toe, all before eight in the morning. Things couldn't get any worse – until the dead body clogs up her toilet. And then, Maggie becomes the prime suspect. Now all she has to do is evade the police, clear her name, trap a killer…and deal with one hunky detective who drives her crazy while making her hormones do the happy dance.
About the Author:
Nageeba Davis decided to pursue her dream of becoming an author after teaching elementary school for years. Her first two books were published in hardback in 2001 and 2002. These books are part of a humorous, sexy, romantic suspense series, and have now been updated and reissued as Kindle ebooks, re-titled as Artful Dodger and Artistic License. A third, brand new book in the series, Artfully Yours, is now available on Amazon Kindle. Read the rest of Nageeba Davis' biography on her website www.nageebadavis.com.
What Fans Are saying about Artful Dodger:
"Nageeba Davis' first book is one that I look forward to crawling into bed and reading every night. I am glad that I can look forward to two other adventures with Maggie in the future." –Kathleen Burch
"Maggie Kean is feisty and fun. Hang on to your hat, as they say. With Maggie, you're always in for a wild ride (and some pretty steamy romance!)" –Barbara Hoyt
"Maggie is funny, smart and clever with a knack for getting herself in and out of trouble.  You will fall in love with the character and be rooting for her to find happiness – and the culprit." –JudiB
If you haven't grabbed your copy of Artful Dodger – make sure to grab it today.