Time Travel Romance – Past Meets Present
Time Travel Romance, Sci-Fi and Fantasy, the perfect blend. Fall in love with today's HOT Romance by Beth Trissel. It currently boasts an impressive 4.2 star rating with 20 reviews.
"This story will grab you and pull you into a fantastic journey as Fergus and Beezus race through time to reclaim an ancient artifact that holds the power of healing…Beth fills her stories with strong characters, quick wit, romance and adventure." –Beth Liveringhouse
A Little About Somewhere in the Highlands:
Will the brilliant geek Fergus and lovely but devious Beezus thwart a power mad time traveler wielding a supernatural relic before he kills Fergus's Highland ancestor?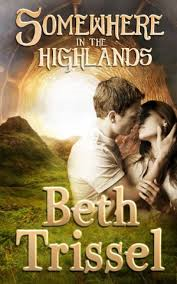 About the Author:
Somewhere in the Highlands is the sequel to Scottish time travel romance novel Somewhere My Lass. Beth plans to write yet another story in this continuing saga–part of her Somewhere in Time series. In the tone of Somewhere My Lass, Somewhere in the Highlands is an unusual twist on the time travel theme, with high tech gadgets, sci-fi lingo, and action packed. With a fun dash of romance, of course.
What Readers Are Saying About Somewhere in the Highlands:
"I have read all the Somewhere books and eagerly awaited Fergus' story. This author never disappoints. The characters, even the supporting cast, are so well developed, they take on a life of their own…This book has romance, action and intrigue. What's not to love?" –Linda B. Nightingale
"…what a story….action, romance and a wee bit of the paranormal. I love all of Ms. Trissels' work and this book did not disappoint." –Debbie Sypeck
Don't miss out, grab your copy of Somewhere in the Highlands today.