Time Traveler Romance that Has it All!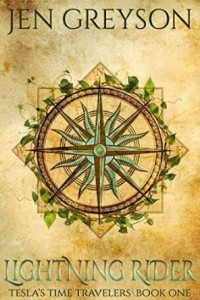 Time traveling was not on today's agenda. Our HOT Romance is, Lightning Rider: Tesla's Time Travelers Book One by Jen Grayson.

Lightning Rider is the first book in the Tesla Time Travel series–stories full of action, adventure, and a romance that spans centuries.
"Now THAT is how you write a kick-ass Heroine!! What I loved – that the heroine is Hispanic (like me), that she is not a cliche, that she comes from a normal, happy and loving family (unless you count generations of Lightning Riders but she didn't know that), that she loves her Papi and that she takes control of her own destiny." -Reviewer

"Evy Rivera. Kick ass heroine with a sassy personality that can command lightning and time travel. Way cool stuff." –Reviewer