Posts Tagged by
Fantasy Romance
S.E. Smith is back with Book 2 of The Alliance Series, the suspenseful fantasy romance, Razor's Traitorous Heart. It already boasts an impressive 4.7 star rating with over 80 reviews and one reader says, "Oh my stars what a ride!!!! I just finished reading this book and whew it ROCKS!!! Action, suspense, drama, betrayal, spicy hot loving, and laughter."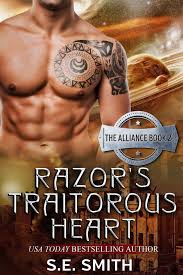 A Brief Synopsis of Razor's Traitorous Heart: The Alliance Book 2:
Kali Parks stands as a silent sentinel at her brother's side as he battles to gain control of Chicago. She will do whatever it takes to bring peace to those she has pledged her life to protect, including fighting against the creatures that came to their world almost six years before.
Razor, a High Chancellor for the Alliance, has been sent to oversee the remaining Trivator troops on Earth and make sure the transition for the induction of Earth into the Alliance goes smoothly. He asks no questions and takes no prisoners. His job is to eliminate all threats to the Alliance.
He finds himself torn between duty and something he is unfamiliar with, his heart. When a shadow warrior saves his life and disappears, he discovers his world is no longer as cut and dry as he thought. Forced by duty to settle the conflict, he must decide between the Alliance and his own desire to claim the unwilling warrior. Will he be able to claim her before she escapes from him again? Or worse, will she sacrifice her life to protect those she loves before he can?
About the Author:
S. E. Smith is a USA Today Best Selling Author and has multiple Amazon #1 books. Susan enjoys the art of writing and being a storyteller who shares love and laughter through her works.
Readers can check out her website at http://sesmithfl.com and chat with her on Facebook at https://www.facebook.com/se.smith.5.
What Fans Are Saying About Razor's Traitorous Heart: The Alliance Book 2:
"All of S.E. Smith's books are wonderfully written, I love her work! This is a definite recommended read! Thank you Ms. Smith!" –Amazon Reviewer
"Never disappointed with this author! …Characters are real & believable with a spark of humor! Love, love, LOVE!" –Amazon Reviewer
"If you've ever read SE Smith, you already know you're not gonna put it down until it's done." –Amazon Reader
Next Page »