Posts Tagged by
anna markland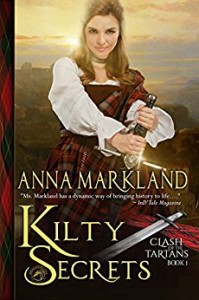 Today's HOT NEW Release is the Scottish Medieval Romantic Comedy, Kilty Secrets by Anna Markland. ONLY $.99 Right Now!

Highlander adventure. Highlander Romance. Kilty secrets abound in this romantic comedy!  As the chief's second son, Ewan MacKinloch resents being offered up as the sacrificial lamb in a marriage arranged to end a 300-year feud with the MacCarrons.
Confusion reigns when alchemy draws them to each other and they risk aiding the cause of factions ambitious to usurp the hereditary MacCarron chieftaincy. Will each discover the other's KILTY SECRETS?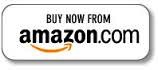 Bestselling author Anna Markland is back with another historical gem, Sinful Passions: The Anarchy Medieval Romance.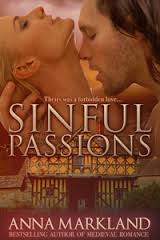 A Little About Sinful Passions:
Juicy medieval romance set in the 12th century. Rodrick must forfeit his earldom if he's to marry his beloved Swan, a union forbidden by the Catholic Church.
About the Author:
Anna Markland is a Canadian author with a keen interest in genealogy. She writes medieval romance about family honour, ancestry and roots. Her novels are intimate love stories full of passion and adventure. Following an enjoyable career in teaching, Anna transformed her love of writing and history into engaging works of fiction. Prior to becoming a fiction author, she published numerous family histories. One of the things she enjoys most about writing historical romance is the in-depth research required to provide the reader with an authentic medieval experience.
What Fans Are Saying About Sinful Passions:
"Once again this is another gem from Anna Markland a beautiful love story of four distantly related cousins wanting to marry and the trials they have to go through to achieve this, It takes you on a fascinating journey through 12th century Europe don't miss it." –Amazon Reviewer
"Wonderful Book loved every chapter!" –Amazon Reviewer
"Lots of fascinating historical facts mixed in with a beautiful story. If my history classes at school had been as interesting I might have studied more. Keep these wonderful stories coming Anna. I love them." –Reviewer
If you haven't grabbed the historical romance, Sinful Passions, do it now.