Sexy Sizzler – Just Right
Ms. Shannan certainly knows how to write a Sexy Sizzler. Today's feature novel is Just Right, part of the 1Night Stand Series. It currently has an impressive 4.7 star rating with 20 reviews.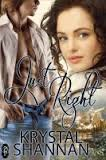 A Little About Just Right:
Marci Garrett works tirelessly in her career as a graphic artist—she's the last of her friends still single. Life and love are passing her by, so after a few glasses of wine, she agrees to let her girlfriends sign her up for a 1Night Stand date. It can't hurt, right?
Building his architecture firm from the ground up, Dillon Hayes has almost zero personal life. Family is important to him, but with his impatient mother threatening to pick out his future wife, it's time to take action. Maybe 1Night Stand is the best place to start.
About the Author:
Paranormal Romance author, Krystal Shannan, lives in Texas and is married to the love-of-her-life. She teaches in the public schools and writes as much as she can in her free time. If any more spare time can be squeezed from her day, she enjoys reading romance in all genres, but especially paranormal. If it has a 'Happily Ever After', she's on board!
What Fans Are Saying About Just Right:
"Ms. Shannan knows how to write a hot book and left me satisfied even with the shorter length." –Amazon Reviewer
"Krystal Shannan wrote a great story with Just Right. It keeps your attention from beginning to end." –Samantha Woods
"This was well-written and smoothly paced. The story is thoroughly developed, fantastically believable. Overall, I loved this book so much!" –Amazon Reviewer
Grab your hot copy of the Sexy Sizzler,  Just Right today.