Sensual New Romance
Don't miss today's sensual tale. An alpha billionaire. A glass artist. A month of complete submission. Grab your copy of BREATHE, part of the In Vino Veritas Series by Lauren Jameson. It already holds an impressive 4.4 star rating with 22 reviews.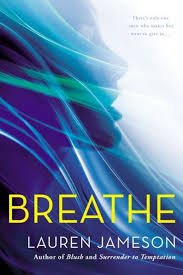 A Brief Synopsis of BREATHE:
When business mogul Elijah Masterson travels to Mexico, he purchases an emerald green glass sculpture for one of the properties. He is soon fascinated by the temptress who created it. The attraction between them is explosive, but Elijah resists, unsure that a woman as strong as Samantha would ever yield in the way he needs her to.
Glass artist Samantha Collins hides a secret desire to submit to the right man. She sees everything she wants in Elijah but, he seems determined to keep his distance. She has always held back, but refusing to let go now that she's found the dominant man she's always wanted, Samantha makes Elijah an offer he can't refuse: a month of absolute submission.
About the Author:
Lauren Jameson never imagined that she'd wind up telling stories for a living… though when she looks back, it's easy to see that she's the only one who is surprised.Lauren lives in the Rocky Mountains of Alberta, Canada with her husband, toddler, pit bull and idiot cat. In her nonexistent spare time Lauren can be found knitting, reading anything she can get her hands on, or sweating her way through spin class. She loves to hear from her readers!
What Readers Are Saying About BREATHE:
"Tantalizingly sensual and shockingly intense, Jameson's second In Vino Veritas book combines the erotic and the artistic in a novel packed with steamy tension… Jameson does an excellent job making this story feel original and daring, providing a hero whose moments of self-doubt make him increasingly sympathetic and a scarred heroine whose courage can break down any resistance." –Romantic Times Book Reviews on BREATHE
"Jameson's writing in Breathe parallels her heroine's glass-blowing art: a delicate touch, a white-hot intensity, and the reminder that one wrong move shatters all. Elijah and Samantha's story is a must-read that will linger." –Julia Kent, New York Times and USA Today Bestselling Author
"Steamy, honest, and emotional, this is a sensual tale of submission, control, and love. Beautifully written with compelling, strong characters, Breathe will leave you breathless." –Sharon Page, USA Today Bestselling author
Make sure to grab the sensual tale, BREATHE today.