Favorite New York Times Bestselling Author Nails it Again
New York Times Bestselling Author, Ruth Cardello is at it again. Check out book five of the steamy Legacy Collection – Rise of the Billionaire. Like the previous books in her series, Ruth knows romance and hits the mark with this one. It currently has a whopping 5 star rating with over 80 reviews. "This book was laugh out funny, as well as touching and heartwarming! Rise of the Billionaire contained steamy passion but also parts that made me want to scream! I just can't say enough good things about this book…" –Allyson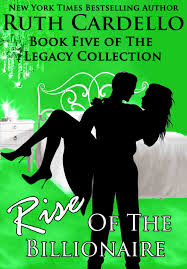 A Little About Rise of the Billionaire:
Dreaming of Alethea helped Jeremy Kater survive a difficult childhood. Now that he has influential friends who owe him big favors, he's ready to become the kind of man Alethea would be interested in: rich and dangerous. Jeisa Borreto was hired to help Jeremy morph into that man. It's a job she would enjoy, if it weren't breaking her heart.
How can she help him change once she's realized she's fallen in love with him? Hint: Sleeping with him doesn't help.
About the Author:
Ruth Cardello lives with her husband, three kids, three dogs, two horses, and some assorted chickens.  If there is a happier place on Earth, she hasn't found it. If you'd like to email her directly, you may contact her at Minouri@aol.com You can also find her website at:  www.ruthiecardello.com or www.ruthcardello.com
Some Praise for Rise of the Billionaire:
"The entire Legacy series is a must read in my book, but this one "rises" to the top in humor and adventure. A five-star rating all the way!"–Karen Lawson
"Loved all the interaction with all our old friends and family from the past books, and it was so funny at times, my son accused me of snorting!  Don't hesitate to buy this book!!" –Linda Young
Make sure to grab your copy of Rise of the Billionaire today.