An Award-Winning Sexy Sizzler
Today's romance is a sizzler that will keep you glued to the pages until the very end. Take a look at Storm of Desire by award-winning author, Cara Marsi. It currently has an impressive 4.4 star rating with 21 reviews and was named 2013 Winner, Second Place Novella Category, Gulf Coast RWA Silken Sands Star Contest. "These two have terrific chemistry and their scenes together are hot, verging on explosive. The writing was atmospheric, and the characters worth rooting for. A lovely story — another winner for Ms. Marsi, who's become one of my fav authors." –Robin L. Haseltine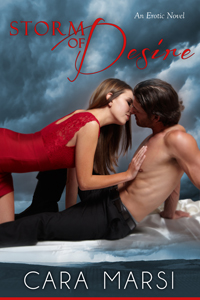 A Little About Storm of Desire:
Corporate attorney Samantha Greco needs some time to think about her career. Instead, she's trapped in a cottage on Fenwick Island with Aiden Rourke, a man she used five years ago when she ran from the heartbreak of her fiancé's betrayal.
Aiden Rourke has loved Sam for years. For one glorious night she was his. When she fled, it wounded his ego and his heart. Stuck together again, they soon discover time hasn't diminished their fiery passion for each other.
The storm outside is nothing compared to the storm of desire, fear, and guilt raging inside Sam. But during their wild weekend together, Sam and Aiden draw closer and realize their all-consuming passion for each other masks deeper needs and desires.
About the Author:
Cara Marsi is an award-winning author. She reads and writes romance to satisfy her craving for good love stories with happy
endings. In addition to her books, she has had success writing short stories. She's published short romance stories in New Love Stories Magazine, and in the Trues (True Love, True Romance, True Confessions, True Story, and True Experience). Please visit her at www.caramarsi.com
Praise for Storm of Desire:
"…Another excellent work by this Author who grabs hold right away and keeps your attention on the story that unfolds…Quite good, we recommend it." — Raven, Reviewing Vixens
"Storm of Desire is definitely a keeper on my shelf! Recommend for all lovers of hot and spicy romance!" –Amazon Reader
If you're looking for a new sexy romance, make sure to grab your copy of Storm of Desire today.