A Sexy Contemporary Romance with Bite
A sexy contemporary romance with bite…Today's feature book is The Vampire Affair (part 1) by Vivi Anna. It currently has a 4.2 star rating with 14 reviews. "Vampire Affair is a fresh, delicious and addictive take on the (new adult) genre. Packed with emotional and erotic intensity, it's a story that will leave you wanting more." -Lauren Jameson, author of Surrender to Temptation and Blush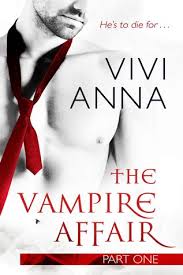 A Little About The Vampire Affair:
Makayla Bradley puts her job at risk as a journalist to get the goods on billionaire playboy businessman Jonathan Devane – the man who enthralled her with a passionate kiss in a Toronto nightclub. A man who makes her blood race and her insides throb. A man with dark secrets…
About the Author:
Vivi Anna is an award winning, Canadian multi-published author in paranormal romance, urban fantasy, and scifi.  She's been writing since 2002, and since then she's published close to 23 books and novellas for Harlequin, Kensington, Avon and others. She also writes YA under the name Tawny Stokes. Vivi is a co-founder of the popular #TVwriterchat on twitter. She's also a screen/TV writer.
Some Praise for The Vampire Affair:
"Ladies if you want a story with a gorgeous vampire, a girl trying to get the dirt on him, and also trying to get him into bed, then this is the novel for you." –Amazon Reader
"A very well written and enjoyable book. Fast paced and captivating story." –Terri Ewing
Take a bite out of The Vampire Affair today. You won't be disappointed.