Brand New Sexy Sports Romance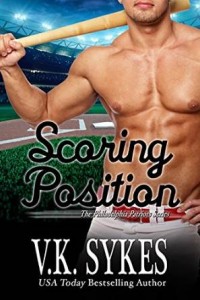 A brand new book in the USA Today Bestselling PHILADELPHIA PATRIOTS series of sexy sports romances! Today's HOT NEW Release is, Scoring Position by bestselling and award-winning author, V.K. Sykes.

Big, tough, sexy…and trouble. As far as sports agent Kate Berlin is concerned, that perfectly describes her new client, Nick Rome. Landing the hard-charging, talented catcher could catapult her agency into the big leagues—or destroy her reputation if she screws up.
"The passion between the hero and heroine is smoldering and the sex scenes smoking hot. I do realize Nick Rome is a fictional character, but as a romance junkie, I'm quite smitten with him. He's the perfect combination of tough yet tender." –Amazon Reader
"The world of baseball and romance is once again entertainingly connected in the latest Philadelphia Patriots story…V.K. Sykes truly hits a homerun…" –Amazon Reviewer