Sexy New Romantic Suspense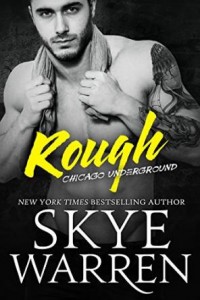 Today's feature post is a sexy new adult romantic suspense, Rough: Chicago Underground by New York Times Bestselling Author, Skye Warren.

I'm a cautionary tale. A statistic. A victim. A single teenage mother from the poor part of town. Most of the time I'm too busy working and struggling to care what people think. Survival doesn't come easy. I have a dark secret, a pressure valve, a rare moment just for myself. On these nights I visit a club. There I find men who give me what I need. Men who aren't afraid to take what they want. Men like Colin.
"Intensely sensuous, wrought with emotion, and so well written that I absolutely could not put it down!" ~ The Romance Reviews
"This is a book you MUST read if you like gritty, edgier romance that makes you think as well as turns you on." ~ Cari Quinn, USA Today Bestselling Author