Hot, Sexy Read – Rough Riders MC Novel
If you're looking for a HOT, sexy read, look no further. Today's feature book is Naked Dirty Love, A Rough Riders MC Novel #2 by Selene Chardou. It currently has a sizzling 4.7 star rating.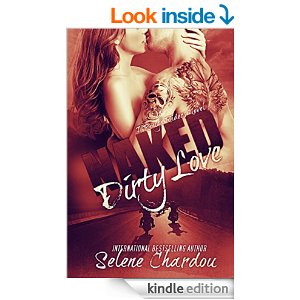 A Brief Synopsis of Naked Dirty Love (A Rough Riders MC Novel #2):
Welcome to Northern Nevada. The scenery is idyllic, the people are friendly and the outlaws rule the Tri-City area between Reno, Carson City, and Lake Tahoe with an iron fist. The path to Hell is paved with good intentions, and so are the highways where Lucifer's Saints, Demon's Bastards and White Knights call the shots.
Club life is what Trey Lennon lives for and all he's known his adult life. As Sergeant at Arms for the Lucifer's Saints Motorcycle Club, his whole world changed when he lost the love of his life and his former status with the Demon's Bastards MC. Secrets continue to disrupt him from getting his life back on track but none bigger than the one a certain fiery haired attorney reveals…
Kyra Hughes is no stranger to the MC life. As the daughter of Jonesy Hughes, President of the Demon's Bastards, she works on the right side of the law defending the outlaws who only desire freedom to live life their way. When a new client puts her in the middle of a RICO investigation, she's forced to drag the one man she's always wanted to make her own into a mess that could blow up in both their faces.
This is Trey and Kyra's story of destruction, pain and an enduring love that will touch every corner of their lives. It's far from perfect but neither is life so proceed with caution.
About the Author:
Selene Chardou is a world traveler and a professional liar. Ms. Chardou's writing is all about hot romance and exciting times with the wild, damaged, out of control, rich and famous set in the world of Contemporary Romance. She is currently working on a vast array of books about politicians, good girls gone bad, bikers, gangsters, fighters, lovers, and anyone else she finds remotely interesting. When not writing, she enjoys daydreaming about her next trip to France, jet-setting across the country to author signings and playing taxi driver to her school-age daughters. Ms. Chardou currently resides with her two children and their multitude of stuffed animals in Las Vegas, Nevada.
What Fans Are Saying About Naked Dirty Love:
"I was so looking forward to this book and it didn't disappoint! there are so many twists and turns just when you think you have it figured out something new pops up." –Amazon Reviewer
"Loved Trey and Kyra's Story! Thought they had such a beautiful connection. They were prefect for one another! I also really enjoyed getting more into the Rough Riders Series! This was a great MC read! Would recommend to anyone who loves this genre." –Aubrey
"Not only does this book give us the steamy sex that we all love and look for, it also adds in the mix of loss, great friendship, loyalty, trust, and all out unconditional love that makes the book complete." –Renee
"There is a prefect amount of sweet and sexy but also suspense and thrill! Ms. Chardou knocked it out of the park yet again, and I cannot wait to see what's next!! Highly recommended!!" –Tracie