Outstanding Romantic Suspense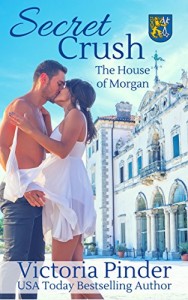 Today's feature romance is the outstanding romantic suspense, Secret Crush: The House of Morgan by USA Today Bestselling Author, Victoria Pinder. ONLY $.99 now.
For some, joining the FBI is a long-term goal. For billionaire John Morgan, joining the Bureau is a stepping stone to proving his father is culpable for his sister's death. After his estranged father dies, John is forced to return home and face the ghosts of his past. That proves to be more difficult than he could have ever imagined.
"This was a wonderfully written contemporary romance which I enjoyed very much. It fit my reading mood just perfectly and I found myself unable to stop reading…" –READER
"This is a book that has all the elements to make a great story. There is romance, family and mystery. This was a book where I didn't figure out the end. Couldn't put it down until I finished. Highly recommend reading this book. Victoria has a wonderful way of telling a story."–Amazon READER