Must-READ Romantic Suspense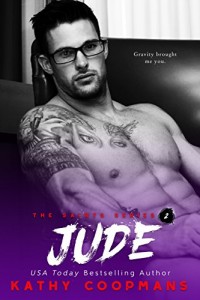 Today's HOT NEW Release is the romantic suspense, Jude by USA Today Bestselling Author Kathy Coopmans.

Of course, I knew it was a one- night stand. It's was the perfect night before all hell broke loose to be quite honest. Drinking, talking and flirting. One I relished in as I tried to gravitate my mind back to solid ground after soaring so high I could feel the rush of flying. My stomach dipped, my heart fluttered, and my toes curled inward and then I splattered to the hard surface of the ground. Jude Westbrooke opened his big fat mouth. He ruined it, ruined me, ruined it all.
"I love everything about this book. From the cover to the delicate, captivating words." Hilary Storm~ USA Today Best Selling Author.
"There is nothing better than a man who is seen to be geeky and know his way around a computer, and turns out to be dirty mouthed and oh so sexy! This is exactly what Jude is and I love him so much! Emma Johnston"~ Ever Growing Book Obsession.