FREE! Sizzling Set of 10 Sexy Shifter Stories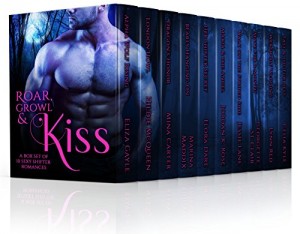 A SIZZLING SET OF 10 SEXY SHIFTER STORIES! Pick up Roar, Growl & Kiss by Bestselling and Award-Winning Authors. FREE Right Now!

From a pack of New York Times, USA Today and Amazon bestselling paranormal authors comes a collection of 10 shifter romances that will leave you howling for more! Grab it today before it's gone forever!
"RAWWRRR! FABULOUS COLLECTION OF STORIES BY TEN INCREDIBLY TALENTED AUTHORS!!! And Roar, Growl & Kiss is my little slice of heaven for this week."–READER
"Your chance to sample 10 different authors at an unbelievably cheap price. Wonderful Deal! Great Authors, Great Books!" –Amazon Reader