Page-Turning Short Story Romance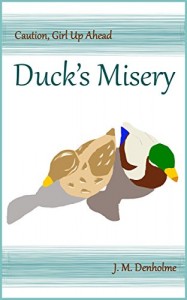 Today's HOT NEW Release is the page-turning short story romance, Duck's Misery: Caution, Girl Up Ahead by J.M. Denholme. ONLY $1.99!

"Duck's Misery" is the first of several, stand-alone, short stories of the "Caution, Girl Up Ahead" series.
We all have a place in our youth where deeds and words linger even though we do not. Vince is a guy with the world in his pocket until a day at Duck's Misery sends him colliding with his past. Let Vince take you along on his journey … someday you may find yourself making a similar one of your own.
"pleasant surprise…made me stop and think about a few things from my own past…Great and soulful…evokes strong imagery while it plucks at many emotional strings" "Once I started reading, it was hard to put down." -Reviewer