Brand New Historical Set ONLY $.99!
April 6, 2017

Filled under

romance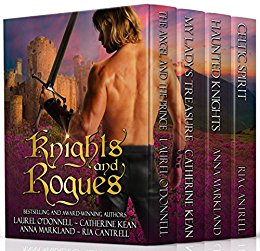 Fall in love with today's incredible historical set, Knights and Rogues by four outstanding authors. ONLY $.99 Right Now!

Four bestselling and award-winning authors have come together to give you one amazing historical set!
THE ANGEL AND THE PRINCE by Laurel O'Donnell
MY LADY'S TREASURE by Catherine Kean
HAUNTED KNIGHTS by Anna Markland
CELTIC SPIRIT by Ria Cantrell
Brand New Historical Set for ONLY $.99! But Hurry, It Won't Last Long!