Brand New British Regency Romance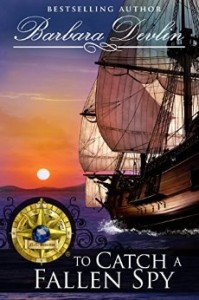 Ms. Devlin is back and better than ever with Book 8 in the popular British Regency Romance Series, Brethren of the Coast. Today's HOT NEW Release is, To Catch a Fallen Spy by Bestselling Author Barbara Devlin.

Sir Ross Logan is a master spy and the mysterious head of the covert Counterintelligence Corps. Tasked with defending a young woman he has furtively admired for years, he doubts not his ability to save her from an unknown villain, but can he defend her against himself?
"Devlin gives us romance, history, laughs and a dashing sea captain, all the ingredients for a great period novel…" –Regarding Enter the Brethren – Amazon Reader
""Enter the Brethren" by Barbara Devlin is a delightful mix of seafaring adventure, ribald rogues and Regency romance." –Amazon Reader