Beautiful Holiday Regency Romance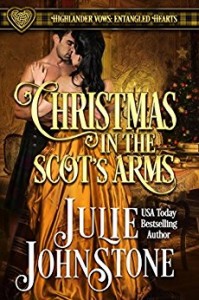 Readers will fall for today's beautiful holiday Regency Romance, Christmas in the Scot's Arms by USA Today Bestselling Author, Julie Johnstone. ONLY $.99!

Laird Liam MacLeod escapes to London for the holidays hoping to find love and to leave the scheming lasses behind. But the calculating debutantes of the ton leave him little hope until he meets Miss Cecelia Cartwright. Unfortunately, Cecelia has a pressing need for a marriage of convenience. Torn between her heart and her duty, Cecelia finds herself dancing at the very edge of impropriety that once before destroyed her good name. Now she must choose between the love and duty.
"Loved this sweet romantic story of Cecelia and Laird Liam. It was just the thing for a cold night in front of the fire. I enjoyed both characters and the others in the story as well. Laughed at Liam's manly antics more than once." –READER
"Fast paced, well written with well-developed and captivating characters. The storyline was utterly charming." –Amazon Reader