Hot New Paranormal Romance
Don't hesitate to grab today's NEW Release, a fresh and hot paranormal romance, Staking a Claim (The Whisperers) by Ciana Stone.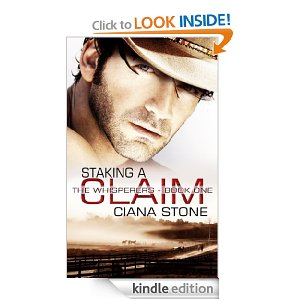 A Brief Synopsis of Staking a Claim:
Lust was a horse he could ride. Love? He didn't believe in love. Then she walked into his life and changed everything. Come take a ride with Jed in Book One of The Whisperers – Staking a Claim
What A Reader Is Saying About Staking a Claim:
"…as soon as I started reading I couldn't lay it aside. It has cost me 3 cans of fresh coffee because my cups of coffee were getting cold….I can't wait to get the rest of the books of this series. Thank you Ciana for another great book." –Amazon Reader
Make sure you take a moment to download your copy of the unique paranormal romance Staking a Claim today.