Sweet, Heartwarming Military Romance
Read the sweet military romance that one Amazon Reader calls, "Heart-warming and engaging!…young lovers on a heart-warming journey towards maturity. A terrific read from an author I recommend!" Don't miss out on today's feature romance, Soldier On by Sydney Logan. It currently has an outstanding 4.8 star rating.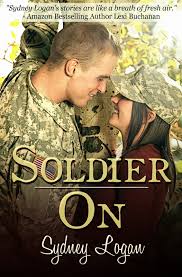 A Little About Soldier On:
Losing her father in Desert Storm has left Stephanie James with a bitter soul when it comes to the military. As a college senior juggling a full course load, Steph's only goal is to graduate with honors at the end of the semester. She's focused, determined, and a firm believer in all work and no play. Then she meets Brandon Walker at a New Year's Eve costume party. Despite his disguise, Steph finds herself attracted to the camouflaged soldier who curls her toes with a scorching midnight kiss.
Brandon is an engineering major and ROTC student from the hills of Kentucky. Growing up as the son of a major general has given Brandon firsthand knowledge of the struggles military families sometimes face. Now that his father's memory is fading, Brandon is even more determined to make his dad proud and graduate as an officer in the United States Army. Then he meets Stephanie, and suddenly, his focus is less on his military service and more on the pretty brunette who has stolen his heart. When he becomes aware of Steph's resentment toward the military, he worries their relationship is doomed.
About the Author:
Amazon bestselling author Sydney Logan holds a Master's degree in Elementary Education. With the 2012 release of her novel, Lessons Learned, she made the transition from bookworm to author. Her second book, Mountain Charm, was released in 2013. She is also the author of four short stories. A native of East Tennessee, Sydney enjoys playing piano and relaxing on her porch with her wonderful husband and their very spoiled cat. Visit her website at www.sydneylogan.com.
Praise for Soldier On:
"Sydney Logan's stories are like a breath of fresh air." – NYT and USAToday Bestselling Author Lexi Buchanan
"Being a military wife, I thought 'I'm going to like this', but it went far beyond my expectations. I'd give it 10 stars if I could!" – Kelsey, Amazon Reviewer
"A beautiful, emotional, and compelling read. 5 Shining Stars!" – Talking Books Blog