Sexy New Military Romance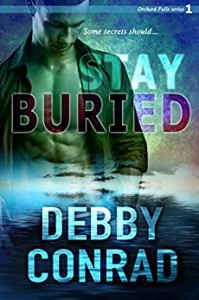 Readers will fall for today's sexy new military romance, Stay Buried by Debby Conrad.

STAY BURIED is the first book in the Orchard Falls series about sexy hot, former military heroes who believe they have gone up against the scariest things life has to offer and still came out on top. But no amount of military training can prepare them for the most difficult challenge of all—falling in love.
These guys aren't afraid of anything, unless their hearts are involved.  Falling in love may prove to be the scariest thing they've ever done.