Passionate Medieval Romance – ONLY $.99 Now!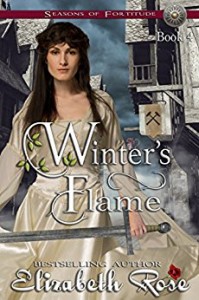 Today's Feature is the passionate Medieval Romance Winter's Flame by bestselling author, Elizabeth Rose. ONLY $.99 Now!

A border lord and a Lady blacksmith are brought together by unusual circumstances, and the passion between them is hotter than the flames of the forge.
"Wow, you really did an amazing job with this book. I think it was my favorite in the series. Winter's spunk and attitude towards things are amazing." -READER
"Brilliant series with the female characters not the norm for their time. I will be going back to these stories over and over." -Amazon Reader
"Winter's Flame is a fast paced, exciting, and entertaining story that keeps your attention from start to finish. There is intrigue, adventure, deception, betrayal, and some very steamy romance." -Amazon Reader