Page-Turning Medieval Romance Set – ONLY $.99 Now!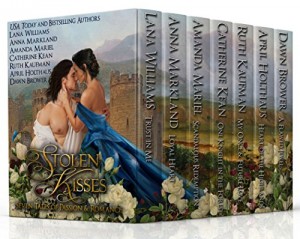 Don't miss today's page-turning medieval set, Stolen Kisses by many outstanding authors. ONLY $.99 Right Now!

Traverse time with seven historical romance novels of revenge, loyalty, betrayal, scandal, and ultimately love that are sure to keep you enthralled.
TRUST IN ME by bestselling author LANA WILLIAMS
LOYAL HEART by bestselling author ANNA MARKLAND
SCANDALOUS REDEMPTION by USA Today Bestselling author AMANDA MARIEL
ONE KNIGHT IN THE FOREST by bestselling author CATHERINE KEAN
MY ONCE & FUTURE LOVE by bestselling author RUTH KAUFMAN
HEART OF THE HIGHLANDS by award-winning author APRIL HOLTHAUS
A FLAWED JEWEL by bestselling author DAWN BROWER
Brand New Medieval Set for ONLY $.99! But Hurry, It Won't Last Long!