Must-READ Scottish Medieval Romance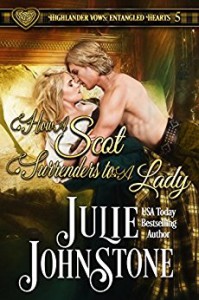 Today's HOT NEW release is the Scottish Medieval romance, How a Scot Surrenders to a Lady by USA Today Bestselling Author, Julie Johnstone.

She was the weakness he could not afford, and the temptation he could not deny. Highland warrior Cameron MacLeod's mission for the king has just gone dangerously awry, and the best chance he has of saving it is the fair-haired beauty he encounters during the ambush. Injured during the battle, the enchantress has lost her memory, but Cameron harbors one of her. Long ago, a seer foretold that this woman had the power to destroy him. He's confident he's not so weak as to succumb to her charms, but the mysterious woman soon proves herself brave, guileless, and after one foolish, searing kiss, impossible to resist.
"I was engrossed from the start, I just couldn't put it down, the characters melded together perfectly." -READER
"This book you will not be able to put down…so be prepare to enjoy a few hours of reading!" -Amazon Reader