A Story of Love & Understanding
To Heath, Sarah's proposal was like a dream come true, until the man stalking her brought a heap of trouble into his quiet orderly life. Romance readers, take a look at today's new contemporary love story, The Farmer Takes a Wife (Mulleins of Katherine Bay series) by author Shirley Wine.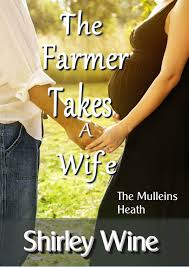 A Little About The Farmer Takes a Wife:
Pregnant and on the run from a man who wants to destroy her family and take her unborn child, Sarah Kreagan has nowhere to go. She turns to her high school sweetheart, Heath Mullein, a romance ended by her wealthy father. In desperate need of love and understanding, she discovers Heath barely resembles the boy she once loved. To Heath, after being warned off by her father, Sarah has always been out of his reach, the over-indulged daughter of a wealthy man. Now, she's reappeared in his life, pregnant and afraid. When she asks him to marry her, Heath is angry and bitter. Will Heath take her in and protect her? Is he someone she can really trust? Can he overcome these negative emotions enough to help her, or is this fickle woman merely using him?
About the Author:
Shirley Wine loves writing romance. Human relationships have always held an enduring fascination. And because real life is often cruel it gives her pleasure to see her characters, no matter their trials and tribulations, reach a satisfying ending.
What Fans Are Saying About The Farmer Takes a Wife:
"Ms. Wine creates a strong cast of secondary characters and reaffirms the importance of family in our lives through Heath and Sarah's story. I'll definitely make time to re-read this one!" –Susan Rees
Don't hesitate to grab your copy of The Farmer Takes a Wife today.