A Coming-Of-Age College Romance
Romance readers, take a look at today's coming-of-age college romance, and our feature book, Inseparable by Missy Johnson. It currently has a 4.6 star rating. "This book had lots of hot romance, a little bit of suspense & paranormal element and fell in love with all of the characters." –Amazon Reader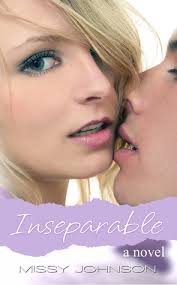 A Brief Synopsis of Inseparable:
Nineteen year old Lily is still struggling with the death of her identical twin, Abby. A chance encounter with Dane Hansen changes Lily's life. Lily's friends warn her he's bad news, according to the rumors, anyway..
Nearly a year after he disappeared off the face of the earth weeks into his freshman year at college, Dane is back. But he is far from the popular, womanizing, athlete he once was. Dane has experienced loss himself, after his six-year-old sister was abducted and murdered nearly ten years ago. He understands Lily, and the more time he spends with her, the harder he falls.There is something he hasn't told her though, something almost nobody knows, and it's something that might stop Lily from feeling the same way.
Some Praise for Inseparable:
"…if you are ever looking for a very cute very sweet read then this is for you." –Amazon Reader
Make sure to pick up your copy of Inseparable today.