Escape to Venice in the Moonlight
Get lost in the perfect escape with today's feature book, Venice in the Moonlight by Elizabeth McKenna. It currently has a 4.5 star rating with 20 reviews. Author Claudia Harbaugh calls Venice in the Moonlight, "…an engaging story of a young widow who finds an unlikely love interest when she returns to her home town of Venice. This story is filled with history, mystery, suspense and of course, romance. Highly enjoyable!"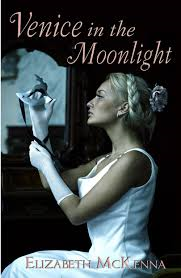 A Little About Venice in the Moonlight:
Considered useless by his cold-hearted father, Nico Foscari, eldest son of one of the founding families in Venice, hides his pain behind gambling, drinking and womanizing.
After her husband's untimely demise, Marietta Gatti returns to her hometown of Venice in hopes of starting a new life and finding the happiness that was missing in her forced marriage.
When Fate throws them together, friendship begins to grow into love until Marietta learns a Foscari family secret that may have cost her father his life. Now, she must choose between vengeance, forgiveness, and love.
About the Author:
Elizabeth McKenna works as a full-time technical writer/editor for a large software company. She had always wanted to write fiction, so she combined her love of history, romance and a happy ending to write her debut novel, Cera's Place. Her short story, The Gypsy Casts a Spell, is available for free on her website http://elizabethmckenna.com/. She hopes you will enjoy her latest novel, Venice in the Moonlight, as much as others have enjoyed her previous works.
What Readers Are Saying About Venice in the Moonlight:
"Let me just say there is a lot packed into these pages and you won't be able to put it down. History, mystery and romance collide to make this book a PERFECT ESCAPE!!" –Lori Caswell
"Absolutely loved this book! It's a historical, a mystery and a romance that peaks over and over again with every chapter." –Margaret
"The characters are real and vibrant. You come to know each of them personally through McKenna's talent of bringing them to life. The storyline is remarkable and believable." –Angela Ford
Make sure to grab your perfect escape, Venice in the Moonlight today.