Timeless Tales of Passion ONLY $.99!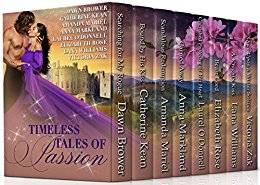 Today's feature is the fantastic historical romance boxed set, Timeless Tales of Passion by incredible authors.

A magnificent collection from best-selling and award-winning authors! Buy it now for ONLY $.99!
Searching for My Rogue by DAWN BROWER
Bound By His Kiss by CATHERINE KEAN
Scandalous Redemption by AMANDA MARIEL
Carried Away by ANNA MARKLAND
Cherished Protector of Her Heart by LAUREL O'DONNELL
Beast Lord by ELIZABETH ROSE
A Knight's Kiss by LANA WILLIAMS
Once Upon a Winter Solstice by VICTORIA ZAK
Don't miss out – Grab your copy today!