Historical Scottish Romance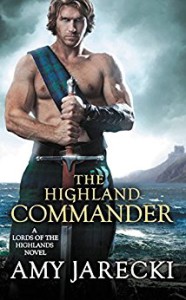 She cannot resist the man behind the mask…Today's feature is the Scottish Romance, The Highland Commander by Amy Jarecki.

As the illegitimate daughter of a Scottish earl, Lady Magdalen Keith is not one to partake in lavish balls or other frivolities. Yet at her father's urging, she agrees to dance with the battle-weary officers at this year's holiday masquerade. It's practically her civic duty! But when one such officer-whose dashing good looks cannot be disguised by a mere mask-sweeps her off her feet and into his arms, the innocent lass can't help herself. Her lips are his for the taking.
"Sizzles with romance… Jarecki brings the novel to life with vivid historical detail."―Publishers Weekly
"Jarecki is a master at weaving history, danger and passion into a spectacular story."―USA Today bestselling author Sue-Ellen Welfonder