Historical Romance Filled with Suspense
Immerse yourself in a historical romance filled with suspense, secrets, and love. Today's feature book is Broken Legacy by Colleen Connally, Book Two of Secret Lives Series.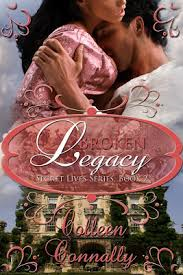 A Brief Synopsis of Broken Legacy:
Thrown into the midst of the French Revolution, Lady Eloise has long struggled with the questions arising from her birth. Forced into a marriage she neither wanted or desired, she finds herself drawn to the man who is now her husband. Lord Gerard puts into place a plan to save his children. Marrying Lady Eloise gives him the leverage he needs. Never did he consider she would risk her life for him nor did he consider that Eloise would evoke feelings within him he did not know existed.
Thrown into a terror few escape, Gerard and Eloise discover a connection that will bind their lives forever—love. That is if they survive.
About the Author:
Colleen Connally writes historical romance riddled with romantic suspense and a touch of paranormal. The Secret Lives Series consist of Seductive Secrets, Broken Legacy, and coming in the fall 2013, Seductive Lies. One can find other historical series under her name of Jerri Hines. She released the sweeping fantasy saga, Whispers of a Legend, under the pen name Carrie James Haynes.
What Readers Are Saying About Broken Legacy:
"This novel has taught me not to give up hope in the person you loved and trust. Colleen Connolly wrote this book with passion, loyalty and lot of suspense. I love how she introduces her characters, and how the story unfolds." –Patty
"I would recommend this to anyone who loves being taken back in time and treated to a love story that has depth. This story wraps you up in interesting people and places. I couldn't ask for more." –TL Johnson
If you haven't grabbed your copy of the Historical Romance Broken Legacy, what are you waiting for?