Page-Turning Historical Romance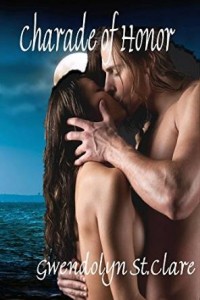 Don't miss today's page-turning new historical romance, Charade of Honor by Gwendolyn St. Clare.

Edwina Stewart is naively duped into a charade instigated in the Caribbean. As she tries expose a man's privacy, she becomes trapped in the reality of the slavery system of the old South. Obsessed, she is continually haunted by her love of this secretive man and undergoes the transformation from innocence to womanhood. Determined to solve his mystery, she tires to clarify if she is to remain ignorant of a man's passion, or if it it's a destiny waiting to be fulfilled.
"I haven't read a book that has gripped my heart so much in a really long time…. I can't wait to see if there is a sequel to come!  The writing was just wonderful A MUST READ!" -Reviewer
"I read the book Charade of Honor. It was the best reads I read in a long time. Couldn't put it down. Great great Story. Had to read it twice. I couldn't get it out of my head. Charade of Honor is a must read. Gripping story. Just Loved the book. Reading Untimely Matrimony now. Love it." – Wanda Britt