Spicy Fantasy Romance
If you're looking for a spicy fantasy romance, then look no further. Today's feature Romance is The Ritual (Theft and Sorcery) by Erica Dakin. It currently has a 4.2 star rating with 14 reviews. "Well written and suspenseful! Great character interaction…The author exposes details of each character as the story develops, which keeps the reader engrossed in the story as it unfolds. A surprise ending topped off an excellent story."- Amazon Reviewer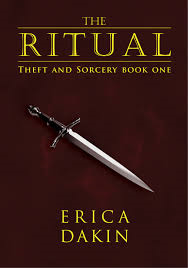 A Little About The Ritual:
For Chiarin, a young half-elf thief, life is about survival. She is considered an outcast and disposable, and every day could bring her death. Then she meets fellow thief Zashter, a master of their chosen trade. He agrees to take Chiarin on as his pupil, and draws her into a dangerous adventure gathering powerful magical items at the behest of his sinister employer. What purpose these items will serve Chiarin does not know, but it soon becomes apparent that Zashter should not be trusted.
Yet she cannot deny the mutual attraction growing between them, and she becomes entangled so deeply that there is no going back. Soon she must face the biggest choice of her life, a choice Zashter no longer has…
About the Author:
When Erica got to about age thirty, she realized that whatever she wrote always ended up being heavily romantic, probably because her second love in books is for all things Romance. She currently has two books available. The Ritual is part one of her trilogy, and The Conspiracy is part two. Part three will probably not appear before 2014, but you never know. She hopes that people will enjoy them, because she can't be the only one who likes the combination of fantasy and romance.
Praise for The Ritual:
"The plot grips you and keeps you guessing until the end!! Really couldn't put the book down and had my heart racing!"–Amazon Reviewer
"The characters are memorable and realistic…Right up my alley…If you're an enjoyer of fantasy books with intrigue, danger, and romance this book is for you." –Amazon Reviewer
"The author has a great handle on her characters' personalities and uses them to tell a lively and creative tale of oppression, perseverance, and love. This is a work I will recommend to friends and I will look for more tales from this author. BRAVO!" –Amazon Reviewer
Grab your copy of the fantasy romance, The Ritual today.