Sizzling Western Erotica
July 27, 2017

Filled under

erotica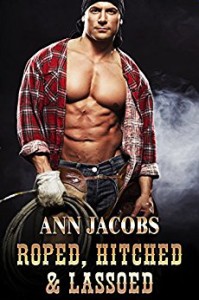 Today's HOT NEW Release is the sizzling Western Erotica, Roped, Hitched, and Lassoed by Ann Jacobs.

Three siblings, all deeply entrenched in the BDSM lifestyle…
Jared, wounded warrior who completes his healing as he heals his widowed slave.
Brad, roughshod rodeo cowboy who finally finds he wants more than just a partner in club play.
Diana, who raised her younger brothers and survived a sadistic master's cruelty, who finds her happily ever after with her vanilla first love.
"Once I started reading this book, I didn't want to put it down! Diana, Brad, and Jared are three siblings who are into BDSM, each in their own way, following an example provided by their parents. Their lives have taken twists and turns, and they've faced heartaches. Now it's time to look to their futures filled with collars, domination, love, and marriage." -READER