Bestselling Amazon Erotic Romance Trilogy is Complete!
February 24, 2016

Filled under

erotic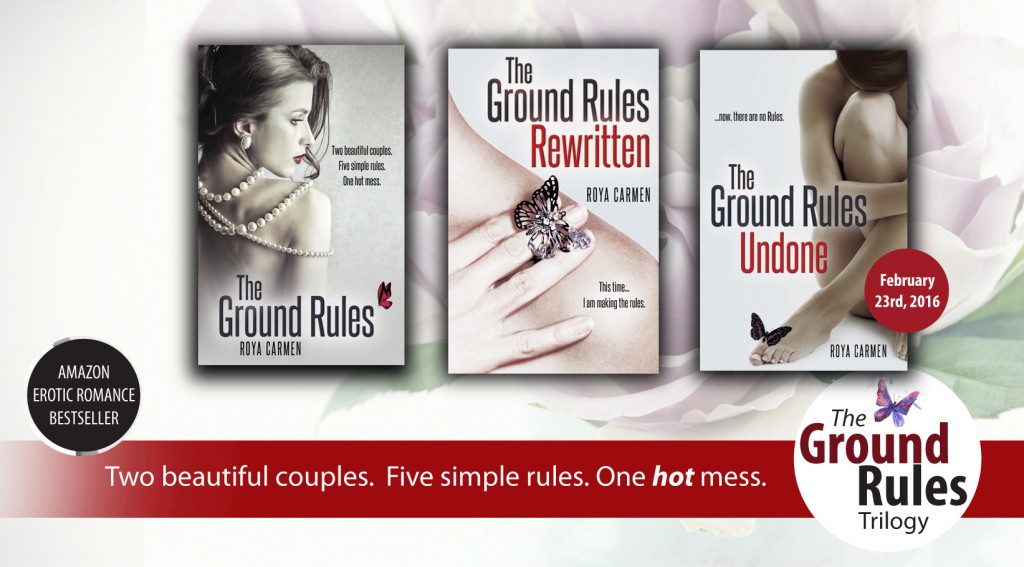 The Ground Rules Trilogy is complete with the release of the last book (The Ground Rules Undone). Readers are calling the series edgy, sexy and taboo – all three books have hit the Amazon Erotic Romance Bestseller list.
An ordinary woman's world is changed forever when she and her husband meet a fascinating couple and enter into a forbidden arrangement. Rules are set in place, but not easily followed. In Book 2, Mirella tries to move on with her life, but when Weston reaches out, as beautiful and magnetic as ever, she is pulled back into the angst, passion and excitement. However this time, she is determined to make her own rules. In Book 3, she must face the consequences of her choices, and she is forced to make the hardest decision of her life.
Purchase Book 1 – The Ground Rules
Purchase Book 2 – The Ground Rules – Rewritten
Purchase Book 3 – The Ground Rules – Undone
"First, book 2 was just as hot and steamy and made you want to just…. I don't know but that's the feeling… "The cover your eyes, is this really happening, OMG it really is" type of feeling. Yeah, you know the one from book 1? Yeah, that feeling." – A Book Lover's Emporium Book Blog
"…tons of hot sex, jealously and angst so palpable at times I had to remind myself to take a breath, this was an addicting read." – review by Brandi
 "Panty Scorching 4.5" – The Smutbrarians