Super Steamy New Adult Romance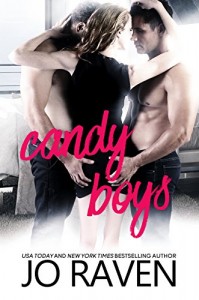 Our HOT NEW Release is the super steamy new adult romance, Candy Boys by USA Today and New York Times Bestselling Author, Jo Raven. ONLY $.99 Right Now!

Joel and Jethro. Roommates. Total hunks. Inseparable friends. Hot as hell.
Meet my fantasy boyfriends. Aren't they just the sexiest, cutest thing? I know, right? They totally are. They are hot, too hot for a quiet—and obsessed with them—girl working in a bookshop.
That'd be me, by the way.
"This has to be my favorite book of this author so far , it was so funny I couldn't stop laughing at times […] #CLAIMED"★Be My Book Boyfriend★
"Holy hell I loved this book! […] You're going to need a long cold shower after this one!"★The Cosy Reader★
"God I was sweating reading this book. It was that hot."★Amazon Customer★
"HOT! I have not read a MMF before honestly didn't think I'd like it, but I loved it!"★Amazon Customer★