Sizzling New Contemporary Romance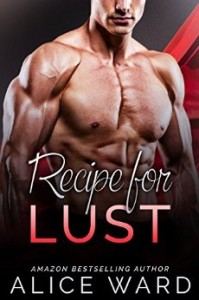 Pick up our sizzling new romance for only 99 cents now! Read Recipe for Lust by Amazon Bestselling Author, Alice Ward. ONLY $.99!
When Claire, a young and ambitious cook, decides to audition for Extreme Cuisine, she has no idea just how much her life will change in just nine weeks. Having just gotten out of a long term relationship, she is ready for a new chapter, and maybe even a hot fling or two.
"Two men vying for her affections, one for nefarious reasons, the other for love, who does she believe? Throw in a compition rife with jealousy, and you definitely have a recipe for disaster, or not? You'll have to read to find out, and I suggest you do." –Reader
"Alice Ward has a way of making you love her character from the very beginning and rooting for them throughout!" –Amazon Reader