Sexy Contemporary Romance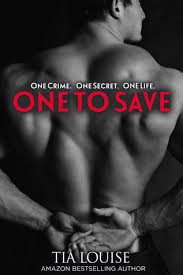 Don't miss today's sexy contemporary romance, our feature book, One to Save by Amazon Bestselling Author, Tia Louise.

The Secret isn't as secure as Derek's team originally thought it was, and a person on the inside of Alexander-Knight is set on exposing him, breaking him, and taking away all he holds dear. Refusing to let anyone suffer for his crimes, Derek takes matters into his own hands. He's exposed, he's defenseless, but his friends are determined to save him.
"In a tale of angst and pure raw heat, Tia Louise delivered a fabulous 'hold your breath' story for one of the hottest couples." –Kelli C., Goodreads
"One to Save is just wow just no words! The whole gang is back in this action-packed book!" –Panty-Dropping Book Blog
"Parts of this book will have you laughing, have you crying, and having you want to scream. I loved the suspense as well as the hotness that you can only get from Tia Louise's writing!" –Reading Past My Bedtime –Kelli C., Goodreads