Scorching Contemporary Romance ONLY $.99!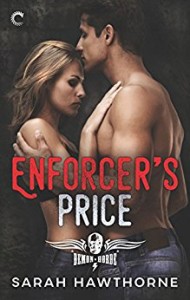 Today's HOT NEW release is the Scorching Contemporary Romance, Enforcer's Price by Sarah Hawthorne. ONLY $.99!

Krista's body wakes at Colt's touch, allowing her to imagine a life after the MC. A future. A happily-ever-after, if only briefly. Krista brings out feelings in Colt he forgot could exist. But just as he begins to trust again, Krista's truth is revealed–testing the very boundaries of Colt's jealousy and faith.
"Enforcer's Price is a sexy romance with spicy, cagey, and memorable characters who need to make the right choices this time around or forfeit everything. The plot has intense moments that leave the reader breathless. Hawthorne writes with passion and honesty." –  Patsy Glans, RT Bookreviews
"Edgy and real, Enforcer's Price grabs at your heart and doesn't let go!" – J. Kenner/Julie Kenner, New York Times & #1International Best Selling Author