Entertaining New Romance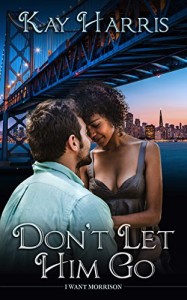 Today's feature is the entertaining new romance, Don't Let Him Go by Kay Harris.

Candace Gleason passed the bar, landed a great job, and is making a killer salary–basically, all of her dreams are coming true. Until she's assigned to keep the boss's petulant son out of trouble. Jack Morrison is the rebellious black sheep of a mighty real estate family. He runs a nonprofit whose mission is to save poor people from evil corporations, like the one his own family owns. Candace suddenly has more to worry about than keeping Jack out of jail. She has to keep him out of her heart.
"A well-crafted and powerful story of love, family, and what it takes to balance work and romance…This lush, evocative story is nothing short of a brilliant introduction to a contemporary romance series that establishes the author as a rising star in the genre." – Readers' Favorite Review
"The dialog is fresh and tension between the characters provides sparks that flame into mutual admiration. They develop and grow in a deepening and convincing relationship. I highly recommend this book." – Reading Alley Reviewer