Charming Romance, Bestselling Author – ONLY $.99!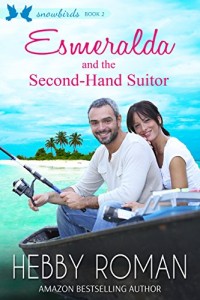 Fall in love with today's charming romance is Esmeralda and the Second-Hand Suitor by Amazon Bestselling Author, Hebby Roman. ONLY $.99 Right Now!

What's a forty-year-old virgin doing in a predicament like this? Looking for a husband but not because she wants one. Esmeralda's late father's will decrees she must marry within three years or forfeit her orchard, her only means of support. Scarred by their pasts and challenged by the gap in their ages, Esmeralda and Hank struggle with their mutual attraction and growing affection.
"Anyone wanting to know that love can happen at any age will adore their journey." Julie York for InD'Tale Magazine
"…their courtship is filled with just the right amount of angst and passion. Ms. Roman has written an engaging tale of two very opposite people. It was a delight to read!" -Amazon READER