Witty Romantic Comedy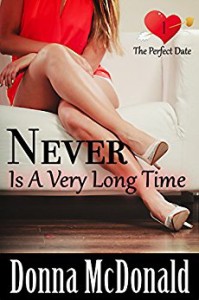 Cupid she's not—but she's pretty darn close. Today's HOT NEW Release is the witty romantic comedy, Never is a Very Long Time by Donna McDonald.

Nothing in the world feels better than finding her clients the perfect date. Of course finding one for herself might be nice. Everyone deserves the perfect date–even her.
"Yet another good book by Ms McDonald. This is going to be such a great series! Yes, she has toned down the sex but sometimes it is enough when they close the door to the bedroom. It actually makes it even sexier!" -Reader
"Great read. It was fun, entertaining, and hard to put down." -READER