Laugh-Out-Loud Romantic Comedy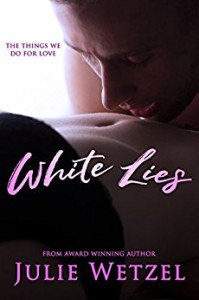 From the Publishers Weekly best-selling author of the Kindling Flames novels comes a new and sexy, laugh-out-loud romantic comedy. Today's HOT NEW Release is, White Lies by Award-Winning Author, Julie Wetzel.

When her identical twin comes down with a stomach bug, Molly finds herself suckered into a huge favor. Impersonating her twin for a romantic dinner…with her sister's amazingly hot boyfriend.
What Readers are Saying About Previous Books by Julie Wetzel:
"Great new series, loved the story line really looking forward to the next installment, first time I had read anything from this author but now have gone to read others definitely will be keeping her in my favorites pile." -READER