FREE Hilarious Romantic Comedy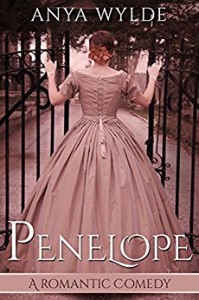 Today's feature is the FREE hilarious romantic comedy, Penelope by Anya Wylde.

Leaving behind the rural charms of Finnshire, Miss Penelope Fairweather arrives in London with hope in her heart and a dream in her eye. The dowager, no less, has invited her for a season in London, where she will attempt to catch a husband.
What follows is a series of misadventures, love affairs, moonlit balls, fancy clothes, fake moustaches, highwaymen, sneering beauties, pickpockets, and the wrath of a devilishly handsome duke.
"Make sure you have enough time toread this book because once you start reading it you will not want to stop." ~ MyShelf
"I loved it! It was refreshing, lively, witty, adventurous, a true riot and a romance with a fairy-tale happily ever after ending" ~ Book Mischief
"Penelope is a sweet, humorous, and delightfully endearing Regency romance that had me treasuring each turn of the page late into the night in order to finish this story in one sitting." ~Lusty Penguin Reviews