Delicious Romantic Comedy
If you're a fan of Janet Evanovich and looking for a delicious romantic comedy, dive into today's feature book, QUEENIE BABY: On Assignment by C. A. Burke. It currently has an outstanding 4.6 stars with 155 reviews. "Queenie Baby was everything I hoped it would be – funny, engaging and romantic! The story is clever and creative, and the characters are HILARIOUS." –Elizabeth A. Jones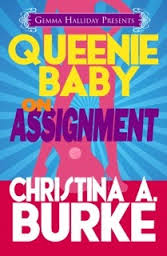 A Little About QUEENIE BABY:
'On the wrong side of thirty' according to her mother and still living the bohemian lifestyle of a musician, Diana is having a double martini day. A sought after performer on the lame Annapolis, Maryland bar scene, Diana works as a temp to pay the bills. This week her assignment is to help Mr. Vann Pyre find love online. Unfortunately for Diana, the only man in her life is Max, her fluffy, white Shitzu-Poodle. But unexpectedly, Diana finds herself up to her chin in men. When Diana's love life goes from nonexistent to off the charts, will she give an old romance a second chance? Or will she take a chance on new love?
About the Author:
C.A. Burke wrote her first novel more than twenty years ago. Life and career took over until she found her way back to fiction writing through the unlikely avenue of metastatic breast cancer. Among other business and education credentials, she holds a Doctorate in Business Administration. Christina, her husband, Jim, and their two children live in Dover, Delaware with the family sidekick, Max the Wonder Dog. Find her at www.caburke.com
What Fans Are Saying About QUEENIE BABY:
"I thought this romance by C.Burke was a riot. Funny and romantic. I always love discovering a new author. The plot was unique and the characters memorable. Well written story. I can't wait for her next." –Amazon Reader
"Her characters are well thought out and fully realized. The pace is far from frantic but developed so that you are swept along on a tide of hilarious mishaps. If you are a fan of Janet Evanovich's Stephanie Plum the you are sure to enjoy Queenie Baby: On Assignment. Surprisingly good book!!!" –Anita B. Kearney
If you like laugh-out-loud romantic entertainment, make sure to grab your copy of the delicious romantic comedy QUEENIE BABY today.